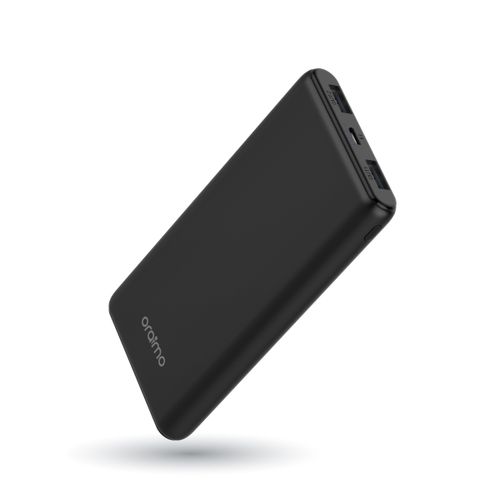 Features:
Newest Oraimo COMPACT OPB-P110DN Product and is perfect for everyday use. Simple design, Buttons, indicator lights, and connection ports are located on one end of the Portable Source. Premium Li-ion battery cells add an extra 10000mAh to the battery life of your smartphone, tablet or digital camera. Oraimo COMPACT OPB-P110DN Product automatically adjusts its output based on the connected device. It's compatible with smartphones and tablets from different brand as well as a variety of digital cameras and handheld gaming devices. It holds enough to charge most of your devices 2 – 3 times
15.5mm Ultra Slim
Using high-density lithium battery. the product is much thinner than other 10000mAh Product
Dual Fast Charging
Dual Charging ports with Oraimofast charging technology. Charge two devices at the same time without sacrificing the speed.
Recharge Your Way
It comes with Type-C and Micro-USB recharging ports. Juice up your po wer b ank with any cablethat you happen to have on hand.
Clear Power Display
The Built-in LED Display exactly shows the remaining capacity in digital format for you to see how much charging power is left at a glance.
Multi-Protection
Surge protection, Short circuit prevention and advanced safety features keep you and your device safe.
Specifications:
Battery Cell Type: Lithium batteryCapacity: 10000mAhRated Input: DC 5.0V/2ARated Output: DC 5.0V 2.1A MaxDimension: 135.7*67.3*15.5mm
Packing List:
1 * Portable Source
Key Features
Capacity: 10000mAh.
ULTRA SLIM Dimension: 135.7*67.3*15.5mm.
High-Speed Charging Output: DC 5.0V 2.1A.
Creative Design: Ultra Slim and Perfect Surface Treatment Process.
Certified Safe: Oraimo's Multi-Protect Safety System.
Warranty: 365 Days Warranty and Friendly Customer Service.
What's in the box
Packing List:
1*Oraimo OPB-P110DN Product1*Micro USB Cable1*User Manual